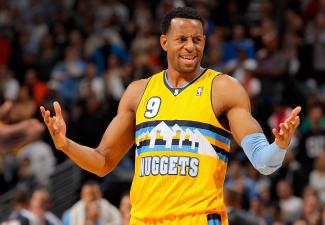 The Los Angeles Lakers found their stride early and never took their foot off the gas, drilling the Nuggets for 17 of 33 three pointers en route to a 122-103 laugher on Friday night.
This hurts. It really does. Not going to say that I expected to win this one, but this was pitiful. From the Jodie Meeks three point clinic to the Dwight Howard three at the end of the game, this game was bad for all aspects of the Nuggets as they were out-rebounded (46-38), out-assisted (33-22), and ultimately outscored in Los Angeles.
At point guard I shouldn't have called out the Lakers as I did in the pregame, because Darius Morris and Chris Duhon performed admirably in their duties. Duhon decidedly cranked his game up and finished with 8 assists and three steals, while Morris pestered Ty Lawson all night. Ty Lawson had a terrible game. As a starting NBA guard, Lawson posted uninspiring numbers (9 pts, 5 ast, 5 TO) in the kind of game that frustrates Nuggets faithful. No driving, missed free throws, 0-2 from 3 and a lack of the "motor" that Denver needs. Lawson also couldn't keep tabs on Jodie Meeks as he slid under screens, giving up open looks. Meeks proceeded to destroy the Nuggets for 21 points on 7-8 three pointers (that's one less than all the Nuggets three pointers put together). Miller posted 10 points and 4 assists in a usual game from him, but the Nuggets point guards simply failed to perform as they should have against a third and fourth stringer on the other side.
Iguodala and Danilo Gallinari hounded Kobe Bryant all night, leading to a human 14 points on 5-15 shooting, however they couldn't stop him from dishing out eight assists, or about one third of the Nuggets' total dimes on the night. On the offensive end, Iguodala worked hard posting 14 points and four assists. He gave the Nuggets the type of game they could expect from him, but nothing extraordinary enough to give them a chance to win. In a telling example of how the night went, he also had a facepalm-like miss on a wide open dunk.
Gallinari asserted himself, facing up against Ron-Ron and leading the Nuggets with 19 points and also adding 3 assists. He was ultra aggressive, getting to the line, sinking the three (4-7) and hopefully propelling himself out of this funk as of late. Faried, on the other hand, looked more like this the whole night…

Yep, that was "the manimal" tonight. Now while Dwight Howard is a force in the paint, that doesn't excuse Kenny from postin two rebounds tonight. Yes, that's right. 8 points, 2 rebounds and a whole night of getting carved up by the likes of Pau Gasol and Antawn Jamison. Playing only 23 minutes, Faried had a night that he'd like to forget. In other news, Kosta Koufos pulled his Lakers game out tonight, meaning he was about as useful as designated driver at a Mormon wedding. Nine minutes, 6 points and 4 rebounds. That sounds about right. As for Javale, he was quiet, posting acceptable numbers (10 pts, 5 reb, 1 foul), but had trouble keeping up with the physicality of Howard. That said, Howard was a beast tonight. He reminded everyone that he is the best center in the league by hounding the boards for 20 rebounds and posting 28 points with a cornucopia of dunks, post moves and put-backs. Why couldn't this man just stay in the Eastern Conference where he belongs?
As for the bench, you've got to praise them for effort. Jordan Hamilton, Corey Brewer and, wait for it… Timofey Mozgov(!) were out there fighting every minute of the game. Brewer was actually comfortable hitting the corner three (2-3), Hamilton scored 13 and had 8 rebounds, and Mozgov chipped in with 7 rebounds and six efficient points. Brewer was his tenacious self on defense and Hamilton was really looking aggressive. Mozgov usually does respectably well against the Lakers and tonight was no exception, I don't know why. He only had one foul and was a solid, if unspectacular post presence for a Nugget team that looked intimidated down low. These guys made a case for some serious minutes tonight, and it would be nice to see Karl reward them for their game.
Bad, bad night from the Nuggets, who have entered this strange cycle of losing 3 games, winning four, losing 3, winning four and… what do you know, here's three losses. And while this isn't scientific, history suggests the streaky Nuggets are due for another four wins in a row (There's nothing else to suggest they're capable of doing that). The Nuggets will return to the Pepsi Center on Dec 3 to face the Raptors (9:30 ET). That's two nights to put this behind and hopefully return to their winning ways.
Tags: Danilo Gallinari Denver Nuggets Dwight Howard Jodie Meeks Los Angeles Lakers Timofey Mozgov