The Denver Nuggets selected NCAA leading scorer Erick Green with the 46th pick in the draft acquired from the Utah Jazz along with cash for the 27th pick Rudy Gobert. Green was born in Inglewood, California but grew up in Winchester, Virginia. The 6'3″ point guard from Virginia Tech was the first player in the ACC to lead the nation in scoring since South Carolina's Grady Wallace in 1957. Green spent four years at Virginia Tech improving every year statistically.
Erick Green is not your prototypical point guard, he created offense for himself and others at Virginia Tech. He reminds scouts more of a shooting guard than point guard but is too small to be a shooting guard. He will bring much-needed perimeter shooting to the Nuggets. Green scored efficiently last season at Virginia Tech, shooting 47.5 percent from the field, 38.9 from beyond the 3-point arc. Denver ranked 25th among teams last season in 3-point accuracy at 34.3 percent.
Erick Green was among the last players to workout for the Nuggets on June 19th at The Pepsi Center. He was a pretty popular pick by fans to be chosen at number 27. Luckily for fans he slid to number 46 where the Nuggets were more than happy to take him.
"We had him much higher (than 46th)," Connelly said of Green."

"I think the idea of a pure point guard is kind of a dying theme in our league," Connelly said in a video posted on the Nuggets' website. "His scoring is what sticks out, and I think we have to embrace that part of his game. He's certainly not a traditional point guard, but I think he's able to play both positions."
Draft info from NBA.com
Strengths – Big-time scorer – Tough to stop in transition – Good 3-point shooter – Quickness/penetrating ability – 6-7 wingspan – Good ball handler – High, quick release on his jumper -Improved passer/facilitator
Weaknesses – Has to get bigger and stronger – Needs to be a better finisher at the rim
What Insiders Say Virginia Tech coach James Johnson "He's playing his game, he's not forcing anything, trying to get the scoring title. In fact, sometimes I'd like for him to be more aggressive."
What Outsiders Say Duke coach Mike Krzyzewski "He's a great player and a terrific kid. He's led that team and he hasn't had all the resources around him, and he still puts up those numbers. Just a terrific performance all year by Erick."
"He's one of the players that I think is a sleeper in this draft, one of those ones where we're going to look back in a couple years and say how did that guy get into the second round," ESPN analyst Chad Ford said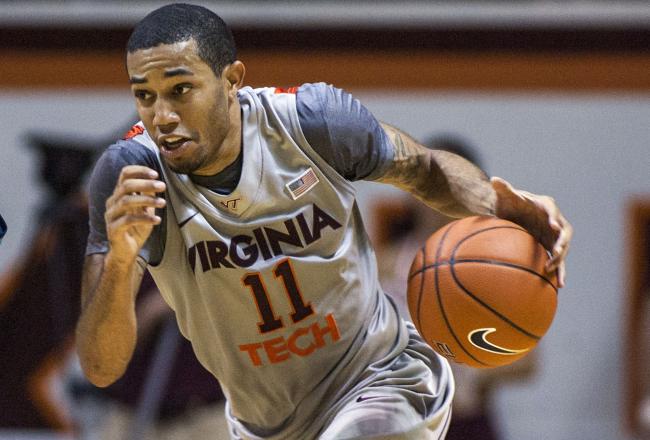 Peter Casey – USA Today Sports
Loading ...
Tags: Denver Nuggets Erick Green NBA Draft Rudy Gobert Utah Jazz Virginia Tech