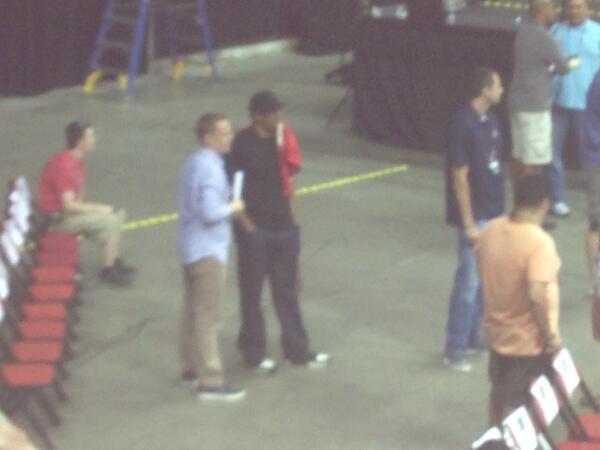 The Denver Nuggets played better but it was not enough. They lost last night at the Thomas and Mack Center 93-81 in their second game in Vegas to the Chicago Bulls. With only one game left of preliminary action before the tournament there are many questions to be answered. Here are my insights on the action last night.
Evan Fournier: He got started quickly and didn't slow down. He finished the night with 20 points shooting 7-15 from the field. He displayed some electric moves in getting to the baskets and was exciting to watch.So far he has been the Nuggets best player and I don't expect that to change.
Quincy Miller: Q played 23 minutes and didn't wow you but it was the little things that kept you intrigued. Overall his game was well-rounded as he finished with 6 points, 6 rebounds and 3 blocked shots. He's been doing a good job playing down low, something the Nuggets will not expect him to do in the regular season. The coaching staff was constantly talking with him and trying explain ways to adjust in the game. It looks as though they believe in him as much as I do. Look forward to seeing what he can do against the Wizards.
Jordan Hamilton : Another rough outing for Hamilton. He picked it up in the 4th and finished with 11 points and 7 rebounds. He has not been the same player he was at last year's summer league where he was obviously the best Nugget on the court, even better than Faried. The drop-off may be due to the fact he recently lost his cousin and will be leaving the team to attend the funeral. I hope this is the case and wish him condolences for his loss.
Erick Green: He continues to struggle with his shot. Green shot 50% from the field finishing with 11 points. He needs to be more aggressive and look more at his shot selection. Summer League is good opportunity for him as he will probably not seem much action in the regular season. He needs to value his playing time and try to take away as much as he can from this opportunity.
Luke Harangody: Harangody surprised me as it seemed like every shot he took was falling. Harangody finished with 17 points and 7 rebounds. He has been the Nuggets second leading scorer and a real surprise for the Nuggets. I expect him to be invited to someone's training camp.
Darius Johnson-Odom: What can I say this guy can score. He had 11 points and 6 assists in the game. Odom was impressive in getting to the basket and working his shot around the floor. He is another guy who should be at training camp.
Other thoughts: No one else stood out. The big men brought in need to be more aggressive. Uzoh's name is fun to say but didn't bring much last night. It seems as though the Nuggets have a small rotation and some guys will not see any action.
There were plenty of big names in the building as Carlos Boozer and Ty Lawson watched from the sideline. Nuggets point guard Andre Miller and former coach George Karl did interviews with NBA TV. The coaching staff and front office watched on from behind the basket.
As for Miller's interview, I don't believe he was bashing the Nuggets in saying they wouldn't win 57 games again. Let's be real. A lot of key contributors of that team are gone. It's hard to win that many games. The Nuggets have a lot building and growing to do this year as they give time to the youngsters. So let's not start the get rid of Miller because he hates us chants yet.
The Nugget play the Wizards tonight at 8pm mountain time. Stayed tuned to Nugg Love for more updates and follow me on twitter @BobbyGeezo for in-game tweets. Also check out Nate Timmons of Denver Stiffs article on last nights game. He is at the summer league as well.
Tags: Andre Miller Chicago Bulls Denver Nuggets Erick Green Evan Fournier Jordan Hamilton Quincy Miller Ty Lawson